RST Sanexas in Gainesville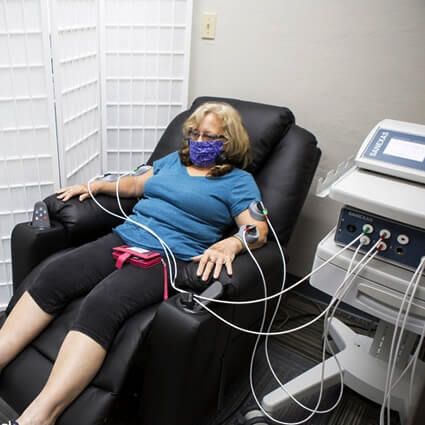 You can reduce chronic pain or peripheral neuropathy without resorting to drugs or surgery. At Physical Medicine Associates of Gainesville, we provide RST Sanexas, which is an FDA-approved solution that is backed by science and research. Our team is experienced in helping people become pain-free with these safe, proven methods.
Who This Treatment Is Right For?
There is a range of issues that can benefit from Sanexas:
Arthritis
Balance problems
Cramping
Diabetic nerve pain
Numbness and tingling
Restless leg
Sharp, burning pain
Trouble walking
How Sanexas Works
Sanexas uses a technique called electric cell signaling. It is based on the physics of resonance, which is the electrical signaling between cells. You can think of resonance like a piano being tuned. The tuner strikes the string, adjusting the energy that vibrates along the string. This effect is what creates the sound, so adjusting the string will change the tone.
Electric cell signaling has the goal of optimizing the "resonance" or energy levels, between cells. When the cells are tuned properly, intercellular communication can occur normally. Your cells can then transfer energy to injured tissues, healing them and relieving pain.
One System, Multiple Benefits
Sanexas is good for acute and chronic pain issues, including discomfort from surgery, accidents, diseases and pain syndromes. While optimizing cell signals, the electrical currents also relax any muscle spasms that you have and increase blood circulation in the local area. Post-surgery, Sanexas may reduce the risk of clots developing in your legs.
The long-term use of Sanexas helps prevent atrophy in your muscles. Since it's noninvasive, there's no recovery time involved post-treatment. Most patients are able to enjoy a better quality of life with Sanexas.
Get Out of Neuropathy Pain
Book your no-obligation consultation for RST Sanexas Gainesville today. Contact Physical Medicine Associates of Gainesville now!
CONTACT US »
---
RST Sanexas Gainesville FL | (352) 378-7664